Mark Blieske – Paddles Across Canada's Central Canada coordinator and probably one of the best paddle carving instructors in the country – was on CTV's morning show in Winnipeg on the morning of January 10th, 2019 talking about both the program and his 52 Paddles project.
Check it out:
Here is some coverage of the very first Paddles Across Canada workshop over 6 years ago.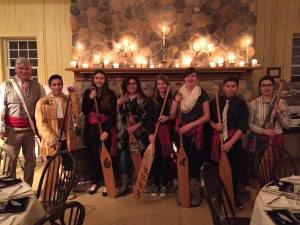 In January 2016, ISEF in partnership with the Canadian Canoe Museum, launched the first joint workshop combining paddle making through the Paddles Across Canada Program and the Tillikum Lens photography program.
Eight students came together with their instructor at Lockport School just north of Winnipeg on January 25. Over the next week these students created incredible paddles and fantastic images but more importantly they created a magical experience. They pulled together as a group under the expert leadership of retired teacher Mark Blieske and  they demonstrated just how powerful images and art can be.
Just a few weeks after the workshop they were at the Silver Canoe Dinner held at Fort Gibraltar for the Canadian Canoe Museum. In the words of James Raffan, former Executive Director for the Museum –
But I have to say that what made the night,…. was the presence of eight aboriginal youth from Lockport Junior High School, who had participated in the Tillikum Lens project that preceded the dinner.  This, as you know, is a new partnership we have established with the International Sustainability Education Foundation and its ED, Jonathon Reynolds.  Through Jonathon and a remarkable retired woodworking teacher, called Mark Blieske and the people at SONY Canada (who provided cameras) and, of course, the Principal of Lockport School, Daryl Loeppky, some kind of magic happened that transformed the night from a dinner about the Cdn Canoe Museum to a canoe-engendered conversation about a renewed Canada, led and inspired by Mark Blieske and his students.
….. but it was when their "valedictorian," William Miller, stood at the podium and spoke on behalf of his classmates about their experience … that's when the shift happened.  Something quite remarkable had happened here.

The workshop garnered quite a bit of media attention with TV crews from both CBC and CTV visiting the students at their workshop.
CBC NEWS
CTV NEWS did a follow up story about the Students paddles being displayed at the Canadian Canoe Museum's Silver Canoe Dinner at Fort Gibraltar.
The students photographs which were displayed at Fort Gibraltar and images of their paddles can be seen here.
This workshop was also covered in the following print publications:
The Manitoba Teacher Magazine: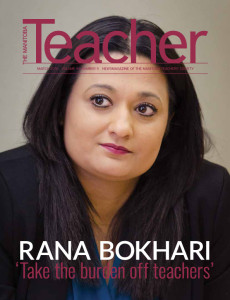 The Selkirk Record: